About Us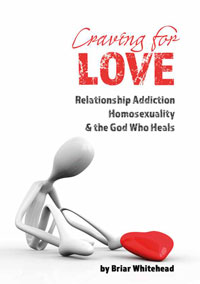 Briar Whitehead is the author of Craving for Love. Briar was a journalist for 14 years, four of those with the Parliamentary Press Gallery in New Zealand. She is the author of two internationally published books and co-author of a third - all of which have been translated into other languages. She has travelled widely researching and writing and had a stint producing documentaries for national radio. This 2015 3rd edition of Craving for Love is a response to continuing demand for the book over the last 20 years.
Briar's husband, Dr Neil Whitehead, is the author of My Genes Made Me Do It – Homosexuality and the Scientific Evidence. Both books are the outcome of research spanning more than 25 years. Neil Whitehead has a PhD in biochemistry. He has been a research scientist for more than 40 years, in New Zealand, France and Japan and is the author of more than 150 published scientific papers, 24 of these on homosexuality. My Genes Made Me Do It has been translated into Polish, Danish, Mandarin and sections into German and Korean. As as e-book it is being widely downloaded internationally.
The books belong together. My Genes Made Me Do It! is probably the most comprehensive review available on science and homosexuality. More than 10,000 scientific papers and publications were consulted in the research. The book's conclusions? There is nothing fixed or final or biologically intrinsic about the homosexual orientation. The view that homosexuality is caused by genes, hormones, or brain structure, is fallacious.
Craving for Love is not a scientific book. Because we are confident that biology makes no direct contribution to sexual orientation, the book comes at the subject from the only other possible viewpoint. Homosexuality is just another expression of the human desire for emotional intimacy, but in this case, with a particular focus on filling love deficits springing from lack of gender affirmation. The causes of homosexuality are complex and have to do with our personal responses to things that happen to us over the course of the first 20 years or so of our lives in our families, peer groups, workplaces and social environments - as many of our attitudes and behaviours do. These can slowly and steadily structure themselves into the way we view ourselves and feed our drives to get what we think we need. Often our sexuality gets involved.
The issues underlying homosexuality can be resolved, with corresponding lessening of homosexual orientation and sexual acting out. Sexual orientation is actually very fluid. One large American study (2007) asserts that there are more people who used to be homosexual than there are currently practising homosexuals and bisexuals.
Craving for Love digs into the heart of same-sex attraction and many of the other ways we try to heal ourselves.
There is only one Healer – who can love us with the love of a Father, a Mother, a Brother, a best friend and an ardent lover. It's God. He knows, accepts and loves us better than anyone ever could. He is actually passionate about us. He would die for us - and did. His is the love we are really longing for when we reach towards our substitutes. He is nearer to us than the air that we breathe and his love is not just a concept. It can profoundly rescue us from the deficits that rob us.